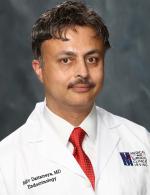 Schedule an Appointment with Dr. Dattatreya
CONTACT INFO
Office Hours: Mon-Thu: 8am - 5pm, Fri: 8am - 4pm
2021 North MacArthur Boulevard, Suite 225, Irving, TX 75061
An expert endocrinologist in Irving, Texas, Dr. Rajiv Dattatreya understands the complexities of the endocrine system, and he specializes in helping patients with hormone, diabetes, and metabolism related health conditions.
Dr. Dattatreya began his medical studies at the Jawaharial Institute of Postgraduate medicine in Pondicherry, India. After completing his coursework, Dr. Dattatreya continued at the Jawharial Institute with his internship program and residency, with another residency at the Postgraduate Institute of Medical Education & Research in Chandigarh, India.
When he arrived in the United States, Dr. Dattatreya attended the residency program at Albert Einstein College of Medicine of Yeshiva University in New York. In 1997, after moving to Cleveland, Ohio, he received an Endocrinology Fellowship from the Cleveland Clinic Foundation.
During the course of his storied career, Dr. Dattatreya has worked at a number of hospitals, clinic and practices throughout the United States, giving him invaluable experience. He joined the team at the Medical and Surgical Clinic of Irving in 2009.
Education
Jawaharial Institute | Postgraduate Medicine Program
Jawaharial Institute | Internship Program and Residency
Postgraduate Institute of Medical Education & Research | Residency
Albert Einstein College of Medicine of Yeshiva University | Residency
Cleveland Clinic Foundation | Endocrinology Fellowship